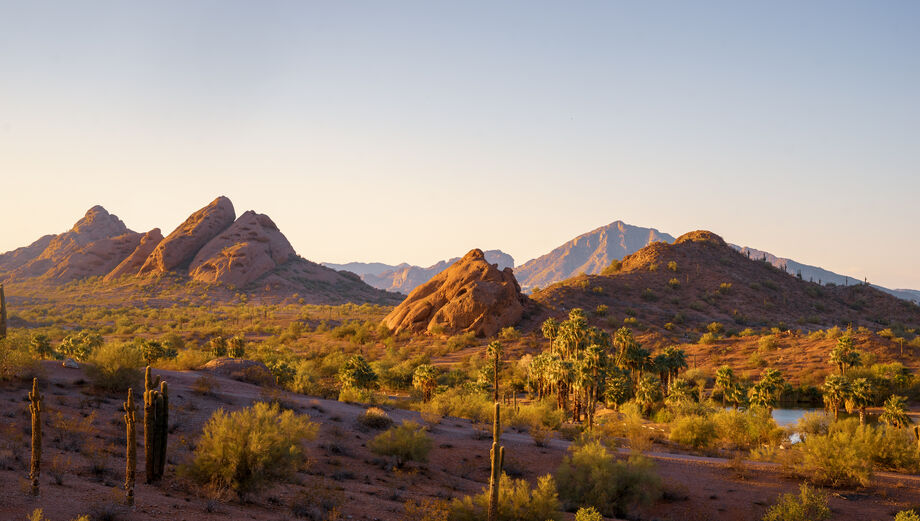 If you're looking for fun things to do in the summertime in Phoenix Valley, you're in good company. We've compiled a list of the top free and low-cost activities that you can enjoy in the Phoenix Valley area. Our suggestion? Make a bucket list this summer and hit up all the local hotspots and hidden gems. You won't regret soaking in the vibrant city culture of the Phoenix Valley area!
1. View the city at Dobbins Lookout
Hikes are one of the best ways to enjoy the Great Outdoors. The best part? They're totally free. Dobbins Lookout is nestled in the heart of the South Mountain. It marks the end of the vehicular roadways in the preserve, allowing you to either drive or hike to the scenic view. The longer days of sunlight make this the perfect activity of choice for early risers, or for those who want to catch a beautiful golden hour shot. Grab your camera, a picnic, or your partner, and make the trek. We promise it's worth it! If you plan to go to this 16,000-acre desert park, we recommend visiting at opening or closing hours to avoid peak traffic. The park also observes "Silent Sundays" where the main roadways are closed, so be sure to factor that into your scheduling!
2. Sip through Scottsdale at Carlson Creek Wineries
Are you looking for a taste of Tuscany in your hometown? Visit the gorgeous sprawling vineyards of Carlson Creek Winery in Scottsdale for a true-to-life experience. Carlson Creek offers distinct boutique wines at accessible prices, offering you the perfect selection for your private collection. They also have a fully-equipped tasting room on-premises and host many seasonal events or gatherings that you can enjoy. If you're looking for a great way to beat the heat, plan to stop by. Late afternoon tastings are some of the best ways to spend a lazy summer afternoon!
3. Wander the grounds of the Japanese Friendship Garden
The Japanese Friendship Garden is a great low-cost way to savor a balmy summer day and offers you an immersive cultural experience that you won't forget. The gardens are crafted in the traditional Japanese design style, promoting themes of peace and serenity with every display. The garden staff also offers a traditional Japanese tea experience, where you'll walk through the steps and meaning of a ceremony. You'll also get to enjoy delicious tea and community with others from the Phoenix Valley area. Beyond these two main attractions, you can also enjoy a variety of culturally-themed workshops at the garden grounds, which are cycled seasonally. A few local favorites include sound bathing and meditation, as well as aikido — a modern Japanese martial art.
4. Explore Native American culture at the Heard Museum
Arizona is a state that is rooted in Native American culture and tradition. You can walk through history and explore the different stories of the past tribes and peoples at the Heard Museum in Phoenix. Beyond historical lessons and guided tours, you can enjoy visual displays highlighting past traditions, as well as view artifacts from hundreds of years ago. Some of the most notable on display include silverwork from the 1800s, as well as modern-day collections highlighting the journeys and inspiration of Native American artists. This is an opportunity that you won't want to miss!
PMI helps homeowners manage Phoenix Valley properties
Are you looking to rent your home in the Phoenix Valley housing market? The expert team at PMI is here to make your process as seamless as possible. To find out more and learn how we can help, visit our website or give us a call at (623) 688-3363.